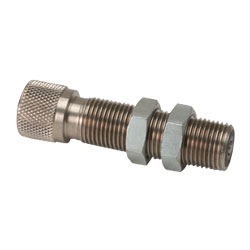 MP-10
Magnetic Pick-Up Sensor
Model MP-10 pickup provides a sine wave output whenever there is an abrupt change from non-magnetic to magnetic material moving past the sensor pole. The output volate is directly proportional to the change in magnetic flux intensity over the change in time.
Mounting
Unit will mount in a 5/8" threaded hole and is provided with 2 jam nuts to secure the sensor.
Adjustment
Pickup should be adjusted for a typical clearance of .01" between sensor and gear. This adjustment will provide excellent sensitivity and resolution.
Temperature Range
-40 to 221 °F
Connections
Lead Wire
Shield
White
Black
Tachometer
Terminal
E
SIG
OV
Bare:
Sensor cable shield
White:
Signal output lead
Black:
Sensor common
Sine wave output from change in magnetic to non-magnetic
Change in voltage proportional to magnetic flux intensity over time
Range of 0.01" (0.25 mm) typical clearance
10' (3 m) cable
Mounting
5/8" thread hole
Adjustment
Typical clearance of 0.1" between sensor and gear
Temperature
-40 to 221 °F
Connections: Lead wire
Shield
White
Black
Tachometer: Terminal
E
SIG
OV