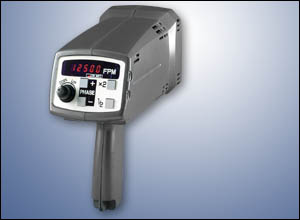 DT-725
Shimpo DT-725 Stroboscope
Flash Range:
40-12,500 RPM/FPM
The DT-725 Digital Stroboscope is a highly stable, industrial-quality instrument for non-contact RPM measurement as well as for inspection and observation of moving parts by "freezing" or "slowing down" the action.
A "Kit" option is offered which also includes a carrying case and spare flash tube at minimal additional cost.
Highly accurate speed control with drift-free operation
Accepts input from sensor for external flash triggering
Easy-to-use controls with bright LED display
Phase shift adjustment permits movement of objects to desired position for convenient observation
Extremely lightweight and rugged
Instant double (2x) and half-rate (÷2) flash selection
100% Re-Charge within 5 hours
Suitable for applications requiring external control of the flash rate using a sensor or other input device. An external power source may be required.
A) 12 - 24 V DC through a 3-wire NPN sensor (requires external power supply)
B) 12 V DC through a 2-wire proximity sensor (Leakage Current 1 mA max. Load current 8 mA min.)
B) Switch or Relay Contact
| | |
| --- | --- |
| Optional Complete Kit is offered which also includes a carrying case and spare flash tube at minimal additional cost. | |
Flash Range
40.0 - 12,500 FPM
Accuracy
± 0.02% of reading
Resolution
(0.1) 40.0 - 4,999.9
(0.2) 5,000.0 - 7,999.8
(0.5) 8,000.0 - 9,999.5
(1.0) 10,000.0 - 12,500.0
Display
5-Digit LED, 8 mm high
Flash Tube
Xenon, 10 watt
Tube Life
100 million flashes
Flash Duration
10 - 15 µs
Signal Output
NPN Open Collector, 24 VDC max.
Phase Shift
0 - 359° (Internal Mode)
Operating Time
1 hour
Charging Time
5 Hours (approx)
Low Batt Indicator
LED light on display
Operating Temperature
32 to 105 °F (0 to 40 °C)
Weight
2.75 lbs. (1.25 Kg)
Warranty
2 Years