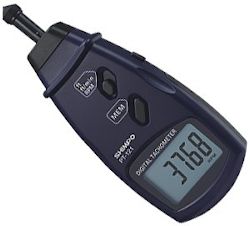 PT-120
Contact Tachometer
The SHIMPO Model PT-120 Contact Tachometer is a simple to use, ergonomic, rugged test instrument for rotational speed applications.

This velocity analyzing and measuring device is ideal for rotational machine inspection and process speed analysis. The PT-120 possesses a large backlit LCD screen that provides clear viewing in any environment. With a simple selection switch users can obtain readings in either RPM, meters, meters per minute in metric models or RPM, feet and feet per minute in imperial models. During testing, the unit automatically saves maximum, minimum, last recorded values and up to 96 logged data readings. The compact, lightweight PT-120 Tachometer comes standard with 3 AAA batteries, protective carrying case, plus several contact adapters and contact wheel.
Metric or Imperial models with 3 unit selection by simple adjusting selector switch
Lightweight, ergonomic design allows comfortable long term usage
Large, backlit LCD for easy viewing in both bright and dim environments
Automatically records Maximum, Minimum, Last Value as well as up to 96 data points during testing
Quickly review after testing by pushing the MEM button
Includes contact wheel and cone adapters
Model
PT-120
Range
PT-122: 0.5-19,999 RPM, 0.05-1999.9 m/min, 0.05-99,999 m;
PT-121: 0.5-19,999 RPM, 0.16-6559.6 ft/min, 0.16-99,999 ft
Resolution
0.1 RPM (0.5-999.9 RPM), 1 RPM (above 1000 RPM)
0.01 m/min (0.05-99.99 m/min), 0.1 m/min (100+ up m/min)
0.02 m (0.05-99,999 m)
0.03 ft/min (0.16-99.99 ft/min), 0.3 ft/min (100 ft/min and up)
0.04 ft (0.16-99,999 ft)
Display
5 digit, 0.7" (18 mm) LCD
Sampling Time
0.8 second (over 60 RPM)
Accuracy
+/-0.05% + 1 digit
Memory
Automatically stores Maximum (UP), Minimum (dn), last value (LA) and up to 96 readings for review. Maximum speed for reading storage is every 0.8 seconds
Dimensions
6.7 x 2.8 x 1.4 (170 x 70 x 35 mm)
Power
3 x 1.5V AAA battery
Enclosure
ABS plastic housing
Product Weight
0.45 lb (0.20 kg)
Package Weight
1.00 lb (0.45 kg)
Certifications
CE
Warranty
1-Year
Included Accessories
3 AAA batteries, protective carrying case. Large & small cone adapter, funnel, surface wheel, 3.87" (98.3 mm) cir.